Electric Meets Urban:
Experiments on Charging Cars by the Digital Hub Mobility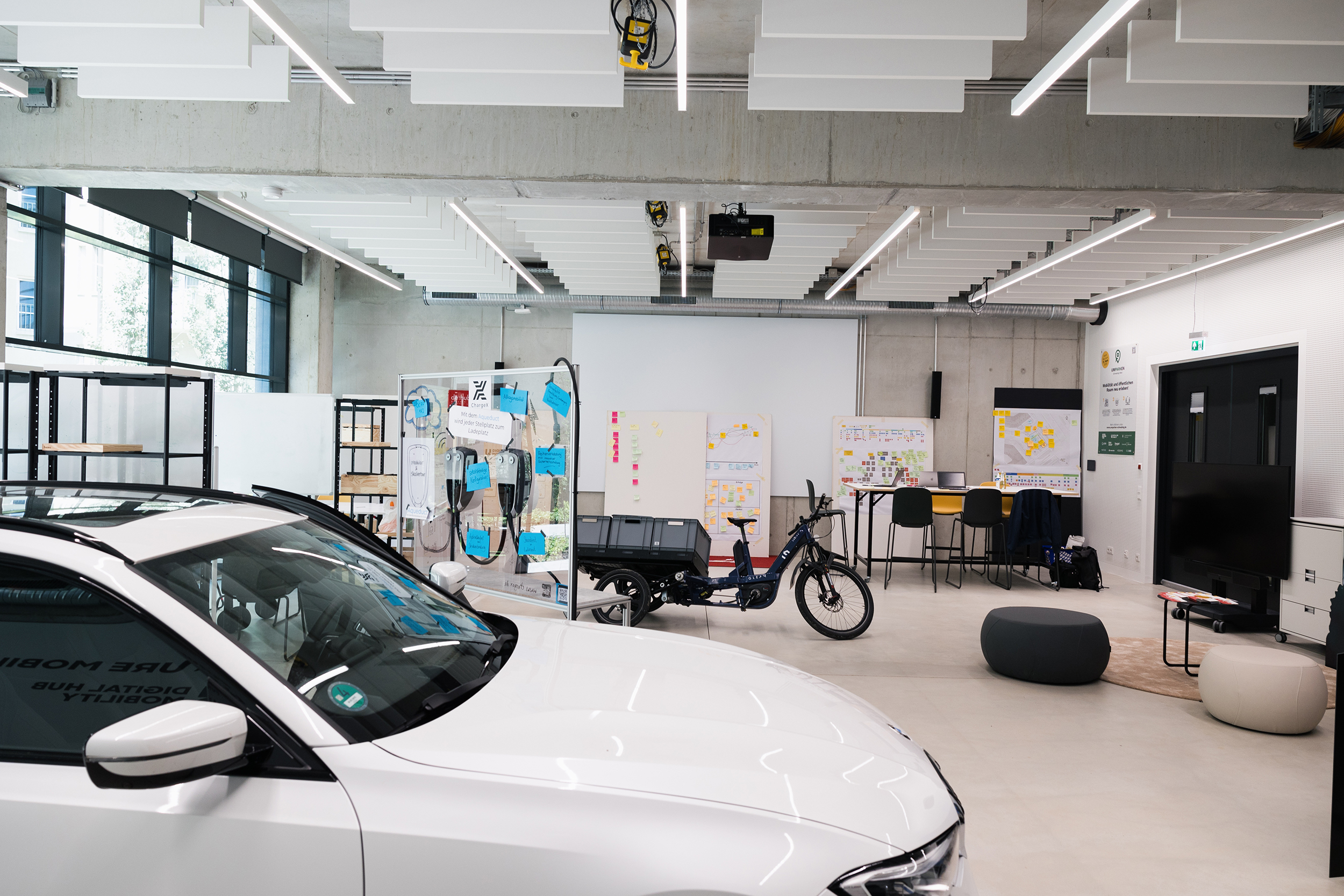 Electromobility is an important building block for future mobility - in urban and rural areas. Particularly in city environments, electric means of transport are a critical part of the mobility mix: they get us to our destination in a more environmentally friendly, quieter way, and without local emissions.
But there are many challenges along the way - one of which is charging electric cars in the city. It's a significant obstacle to increasing the widespread use of urban e-mobility. With tomorrow's requirements in mind, we offer a place for creating solutions in the here and now: the Munich Urban Colab, including its surroundings. Become a part of it!
Inconvenient Hurdles with Charging
Unfortunately, charging is a real "roadblock" on our way to user-friendly urban e-mobility and widespread adoption. Among others, these are the reasons:
There are too few charging stations.
The number of electric cars in cities is rising, but charging stations aren't keeping pace. Are more and more public charging points the solution? There is a chicken-and-egg problem with the expansion of charging infrastructure and more and more e-vehicles on the roads.
There is too little public space for charging points.
Unfortunately, this means that the expansion of charging infrastructure is challenging. Space efficiency is a core goal for transport in big cities like Munich.
Operating charging stations is often not economical.
At present, AC (alternating current) charging stations are often not profitable for those offering them. Sustainable business models are needed.
The availability of charging stations is not clear.
Many users do not have their own wall box, especially in the city center. In the case of public stations, it is often not clear whether they are occupied and when they will be free again. Could we increase user-friendliness and ensure less parking space/charging station search traffic by making reservations possible?
Charging can be time-consuming.
Both AC charging stations (about four hours charging time for 250 km range) and fast DC charging (about 30 minutes for the same range) require time to bridge if your office or home isn't nearby. How can we use charging time wisely and make charging experiences pleasant?
Therefore, many conclude that e-charging is less attractive than refueling gas. Only the pioneers dare to make the switch to purely electric vehicles. Early adopters are more likely to accept issues with the public charging infrastructure and often have charging options at home or work.
In the future, urban users will be more reliant on public charging locations and need more options to get their batteries ready for the next drive. The goal: charging is easy and stations are nearby. The Digital Hub Mobility works with companies, cities, municipalities, start-ups, and citizens in the Munich Urban Colab to achieve just that.

The Power of Many: the Charging Network
Colab for collaboration: with this motto, the Digital Hub Mobility accelerates sustainable mobility for livable environments with its partners. In terms of electromobility, this means joint solutions for the urban charging infrastructure of tomorrow. That's why the Hub has put together an engaged network and initiated pilot projects that they implement in and around the Munich Urban Colab.

The following participants are working together in the "E-Pioneers" initiative:
UnternehmerTUM - center for innovation and business creation in Munich
Digital Hub Mobility - UnternehmerTUM platform for mobility solutions of the future
AISIN - supplier in the automotive and energy market
BMW Group - automotive and motorcycle manufacturing and mobility services
SAP - enterprise software
Municipal Utilities of Munich (SWM)
Mobility Department of the City of Munich
Munich Urban Colab - center for innovation and business creation by UnternehmerTUM and the City of Munich
&Charge - start-up with a bonus system for e-mobility
ChargeX - start-up for electric charging systems
Designit - experience-based innovation services
Technical University of Munich
The Munich Urban Colab offers these advantages for the project:
cooperation of different partners, e.g., start-ups, established companies, and the city administration
central location
technical requirements and space for experimentation with an intelligent charging system in the underground car park, the Future Mobility Space as a space for work, experiments, and inspiration on the ground floor, and a temporary fast-charging station at Leonrodplatz

E-Friendly Community: Three Initiatives
The Digital Hub Mobility has launched several initiatives with its collaborations to take the status quo of charging to the next level, working closely with experts and citizens. It all started with the question, "What does the urban charging infrastructure of tomorrow look like?" The team's vision: a holistic charging experience that is fun and makes it easier for people relying on a vehicle to switch from traditional to e-cars.
In interdisciplinary teams and within six months, the participants develop solutions, conduct urban experiments or pilot projects, and generate findings - right in the local environment of citizens.
1. E-Pioneers Community

In the co-innovation format citizen mobility, the team closely involves citizens and (prospective) e-car drivers in the development. As the German government's "Master Plan for Charging Infrastructure" points out, those users' requirements and needs are crucial for the acceptance and long-term success of e-mobility. With its community, the citizen mobility team uncovers potentials, e.g., through idea contests, online surveys, and feedback on conducted experiments.

2. Charging Together ("Miteinander Laden")
An experiment that makes use of our common ground: With residents and employees of the Munich Urban Colab, the project partners asked themselves, 'How can we make the existing charging infrastructure accessible to more people in the city?'

Especially in the evenings, overnight, and on weekends, the charging points of an office building remain largely unused. During these times, residents can take advantage of them, especially those who don't live in their own homes with an attached wall box. That's why we made our charging stations at the Munich Urban Colab available to the neighborhood - and explored the potential of complementary user groups and their needs.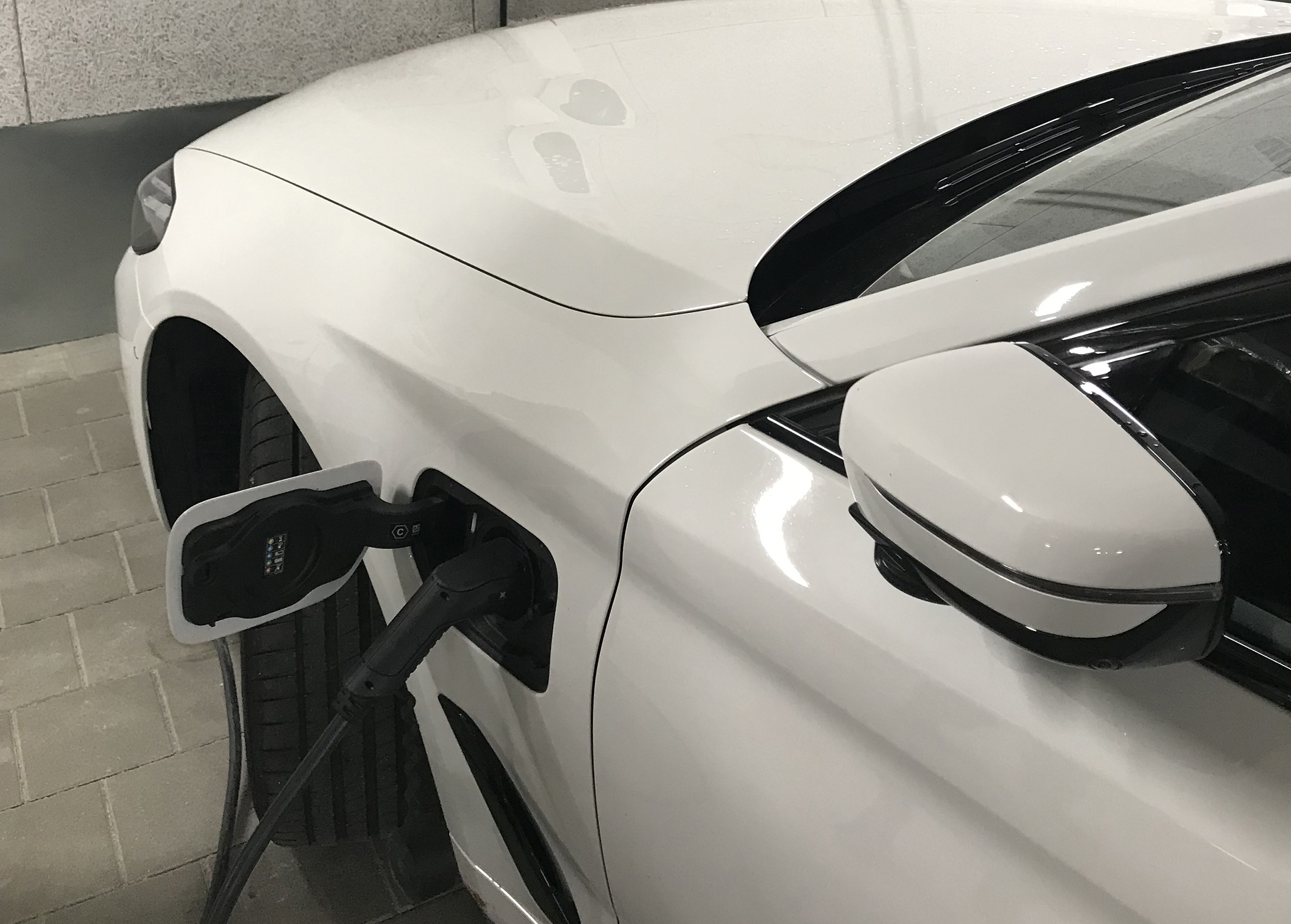 The experiment:
The start-up ChargeX set up its scalable solution. Of six intelligent charging points in the underground parking garage, each can be selectively expanded like a multi-socket ("plug and play"). &Charge, another start-up, takes care of the digital integration in its mobility app while SAP provides the backend.
Different groups tested the charging points during the experiment from August 18 to November 26, 2021. They were available for free 24/7.
Practical insights into how users interact with each other and reserve charging points were the experiment's focus. The project team tested an approach to "wall box sharing" with &Charge to demonstrate how people can use the stations conveniently and securely plan ahead. It also aimed to address charging needs in the neighborhood.
The initial results:
Of 31 participants, one-third were from the neighborhood, while two-thirds were Colab tenants. In fact, the latter hardly used the charging stations outside working hours. The hours of use strongly indicate complementary user groups, which can complement each other well.
It's particularly important for participants to reserve their spots and charge easily.
Fair play matters: some hurdles make fair usage more difficult. For example, the team tested a conversation function for demand-based sharing between users.
The barriers need to be very low for companies to make charging points accessible to outsiders. Their needs include: priority groups should be able to charge at any time, billing is simple, and they're legally covered.
Overall, the experiment shows great potential for cities to expand their charging infrastructure and to make better use of space - even on (private) parking and charging areas that have been inefficiently used up to date. Concepts such as in "Charging Together" (point 2) can make a relevant contribution to the e-mobility landscape of tomorrow.
3. Urban Fast-charging
What is the best experience at a quick-charging site in the city? How do drivers use it today and how will they in the future? And how do we improve the efficiency and profitability of the public charging infrastructure? The Digital Hub Mobility seeks answers to these and other questions as part of the temporary pilot project "Urban Fast-Charging" at Leonrodplatz in Munich.
From the end of November 2021 until mid-January 2022, a fast-charging station (with a capacity of 100 kW DC, i.e., direct current) will be available to all Munich residents - numerous and constructive feedback welcome! In only 30 minutes, it achieves about 250 km of range - which is about the average weekly mileage in Germany. Time for a coffee in one of the localities or a walk to the Munich Urban Colab... And: the start-up &Charge makes it possible to easily find such local offers and benefit from a bonus system.

Ultra-fast charging at urban hubs can become an important part of the public infrastructure and make e-mobility more attractive. That's exactly what the Digital Hub Mobility is testing in a real environment at usual charging costs.
Outlook
These initiatives and experiments help to get the ball rolling with e-mobility. The Digital Hub Mobility has three main goals:
facilitating the transition to e-mobility
bringing e-mobility onto our urban roads faster and supporting its market breakthrough - also by providing impetus to decision-makers
improving e-mobility by generating insights to make informed decisions and create holistic solutions that cater to citizens' needs
With the results from the initiatives above, the Hub team presents opportunities and case studies on urban charging. In 2022, they aim to gain speed and work more intensely on future-oriented solutions with existing and new collaborations. Are you onboard?